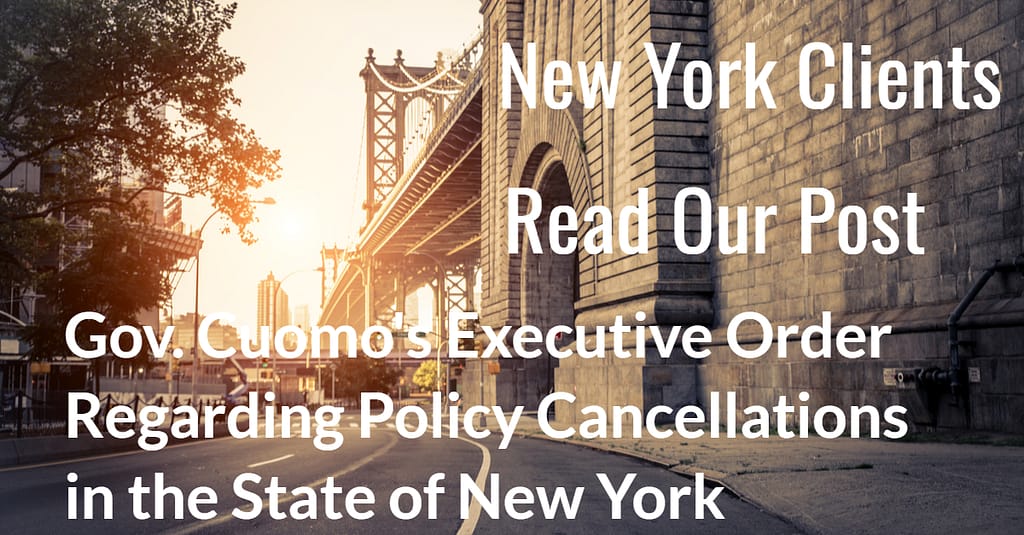 We hope that you, your family and your co-workers are safe and well during the COVID-19 pandemic.  We hope this information can help relieve a small bit of that stress.  Please be sure to read this post in its entirety.
60 Day Moratorium on Policy Cancellations (March 29, 2020 – May 27, 2020)
We are reaching out to inform you of an Executive Order issued by Gov. Cuomo and how this may be of help to you and your practice if you should need it.  This Executive Order states that in the state of New York, there is a moratorium on your insurance company cancelling your insurance policy for a period of 60 days, even if premiums are not paid.  This Executive Order was put in place to protect policyholders due to the financial effects of the COVID-19 pandemic.
This means that insurance companies will not be cancelling policies in New York during this time, regardless of whether you receive a cancellation notice or not.  Please note that some cancellation notices are automated and cannot be stopped, however, they will not be enforced during this time.  If a policyholder does not make a timely premium payment and can demonstrate financial hardship as a result of the COVID-19 pandemic, your insurer may not impose any late fees relating to the premium payment or report you to a credit reporting agency or a debt collection agency regarding such premium payment.
The goal is to try to keep dentists and dental practices protected during this 60-day window as the pandemic has put a strain on businesses from various angles.  The Executive Order does not state that the insurance premiums are forgiven, but only that policyholders cannot be cancelled during this period even if they have not paid.  We understand that small business budgets are being squeezed at this time and hope this can be a small help.
Catching up on Overdue Insurance Payments
Please note that we are encouraging our dental clients to pay insurance premiums due if they are able to do so at this time.  This is due to the fact that this moratorium is not forgiving or erasing premiums that would be due the insurance company.  Instead, it is allowing repayment in the future using a catchup period over the next twelve months.
The regulations require your insurance company to permit you, as an affected policyholder, to pay the overdue premium over a 12-month period if you did not make a timely premium payment due to financial hardship as a result of the COVID-19 pandemic and can still demonstrate financial hardship as a result of the COVID-19 pandemic.
Next Steps
If you have already paid your insurance premium or are able to pay your insurance premium there is no further action required at this time.
If you are not able to pay your insurance premium at this time, please call or email us for assistance.  If a dentist or dental practice cannot pay premiums due to financial hardship, there is a simple process.  The Executive Order states that policyholders can just attest that they are having financial difficulties from the COVID-19 pandemic in order to validate their request not to pay.  We are asking that dentists call or email Emery & Webb if they cannot pay their current premium due to hardship from COVID-19.  We will ask for an email attesting to that fact which we will keep on file for the dentist and/or practice and then also be able to communicate to the insurance company.
If you would like to review the Executive Order, a copy of the Executive Order can be found at https://www.governor.ny.gov/news/no-20213-continuing-temporary-suspension-and-modification-laws-relating-disaster-emergency
Our office is fully functioning, and we are here to help.  All phone lines and email addresses are working so please reach out to us so that we can help.