There are many practical issues to consider as you begin the process of re-opening your dental practice.  We've been fielding many calls from dentists across the country specifically asking if their dental malpractice insurance company will cover them for seeing emergency patients during the pandemic, and if there are any restrictions in coverage once they re-open.  Specifically, many dentists are asking if their malpractice policy will respond if a patient claims to contract COVID-19 in their dental office.
Will my malpractice insurance policy cover me for a COVID-19 claim
The short answer is:  probably.
As long as you are operating your business within your state and local guidelines, and you are treating patients within the scope of your dental license, your malpractice insurance policy will respond as it normally would, subject to the normal terms and conditions of the policy.  The insurance companies that we work with have not reduced coverage or added any exclusions as a result of COVID-19.
Please remember that intentional torts are never covered, and illegal actions are never covered.  Therefore, following your state guidelines is imperative.
For additional information, please see the COVID-19 resource page for dentists from your specific malpractice insurance company.  We've linked to their specific COVID-19 resource pages below.
What should I do if I think I have a potential patient claim
Seek the advice of a Risk Management Professional at your specific malpractice insurance company as soon as possible.  Risk Managers are trained in helping dentists de-escalate a situation to try and avoid a claim if at all possible.  They can provide advice regarding refunding a patient and for terminating the doctor-patient relationship if needed.  And if necessary, they can open a claim for you so that an attorney provided by the insurance company can give you advice and respond with appropriate legal action.
Not sure where to start?  Our Claims Department at Emery & Webb can be your first resource.  Call our office at 866-279-1252 and ask to speak to the claims department.  Our claim specialists can immediately put you in touch with the appropriate Risk Manager at your insurance company.
How can I prevent a COVID-19 related claim from happening
Communication and documentation are the 2 keys.
Communicate with your patients during the scheduling process regarding any changes they will experience upon visiting your office.  Don't surprise them by greeting them at the door with a thermometer in hand!  Prepare them ahead of time for any changes that you've made to your check-in procedure.  If taking temperatures will be part of your procedures for the time being, communicate that information ahead of time.  To put their mind at ease, advise them of the efforts you are taking to ensure their safety.  And if you will require them to wear a mask upon entering the office and while sitting in the waiting room, let them know before they arrive.
Post notices on your doors if you are requiring anyone entering the office to wear a mask.  Similarly, post notices in the waiting room if you are asking patients to keep their mask on in the waiting room.  Post hand washing reminders in the restrooms, and provide hand sanitizer for patients if at all possible.  Posted notices are important in addition to verbal communication.  Below are notices that are free for you to download and post in your office.
Free Resource Downloads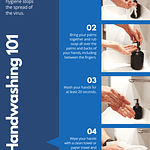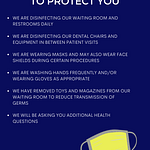 Consent forms
Even the most conscientious practitioner can't possibly keep every germ out of a medical office setting.  It's not possible, even with the strictest cleaning routines.  Malpractice Insurance companies are strongly suggesting that you include a Consent and Acknowledgement form specifically related to COVID-19 along with your regular consent form, for all patients.  The form basically informs the patient of the inherent risks despite your best efforts to protect them.  There are 3 sample forms below, that you can download for free.  They are not branded to a specific insurance company, and can be used in conjunction with your regular consent forms.
Sample Consent Form from the AGD
Sample Consent Form from ProAssurance
Sample Consent Form from Medical Protective
Lastly, it's important to remember that your patients may each be experiencing this pandemic differently.  One patient may be angry when asked to wear a mask.  The next patient may be not only wearing a mask but asking all the details regarding your disinfecting routine.  Their perspectives may vary based on whether or not they have had a personal interaction with the medical effects of the virus.  If one person has a loved one who has been very ill from COVID-19, their perspective may be quite different from someone who has a healthy family but has been out of work for several months.  The severity of the pandemic also continues to vary widely from state to state and even county to county.  Our experiences, our personal history, and our sources of information all inform our perspectives.  Be patient.  Be consistent.  Document your interactions. Let us know how we can help support you.