Safety is top of mind for all dental practice owners as we begin the processes of re-opening businesses across the country.  The guidelines vary from state to state, and even from county to county in some cases.  In speaking with hundreds of dentists over the past few weeks, the common thread between dental practice owners across the country is clear.  They want to re-open in a way that keeps both their staff and patients safe, while continuing to provide excellent clinical dental care.
Re-opening Concerns
Practice owners will be facing concerns from multiple perspectives.  They will need to address concerns from staff, patients and 3rd party vendors, as well as navigate a new regulatory and economic landscape.  This is not for the faint of heart.  But you're not in this alone.  We have gathered resources  from national dental organizations, dental malpractice insurance companies and federal organizations all in one place to help you navigate the changes and challenges.  Below are the primary concerns that we've been hearing from our dentist clients.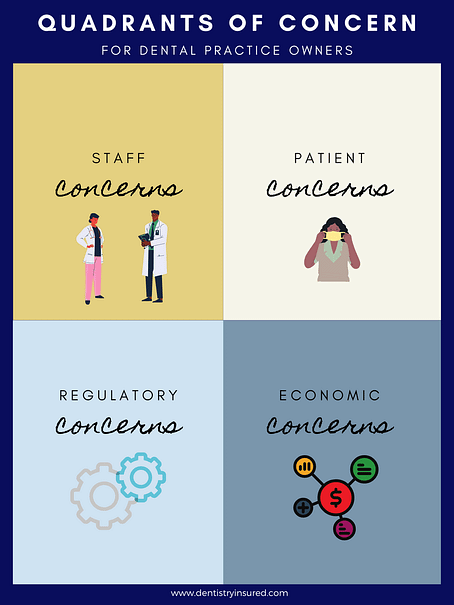 Staff Concerns
Performing aerosol generating procedures
Availability of appropriate PPE
High touch areas in the waiting room and as part of the check-in process (pens, clipboards, payment machines, desk/counter top, etc.)
Triaging and new consent forms related to COVID-19
Monitoring staff health – temperature logs, etc.
Handling patients who either understate or misrepresent their current health status (i.e. what to do if a patient is in obvious respiratory distress, but states otherwise in an attempt to be treated)
Patient Concerns
Will the dental chair be sanitized thoroughly before I sit in it?
Do I need to wear a mask to enter the office?
Will I be able to check-in using a low-touch process?
Will I be able to keep appropriate social distance from other patients in the waiting room?
Will there be new forms for me to sign regarding my health history?
Can I still be treated if I have had COVID-19 recently, but have recovered?
How are patients being screened to ensure they are healthy enough for an in-person appointment?  Will someone take my temperature?
How do I know if the hygienist, dental assistant or dentist treating me is healthy?
Regulatory Concerns
Timing for re-opening for emergency procedures per state and local guidelines
Time for re-opening for routine procedures per state and local guidelines
Guidelines for requiring patients to wear masks
Employment laws and financial obligations to employees
Documenting patient consent and patient understanding of inherent risks in seeking treatment
Teledentistry state dental board guidelines and patient consent
Translator/Interpreter services required for patients
Protecting the business and providers from lawsuits related to declining to see ill patients, patients claiming to contract COVID-19 in the office, delay in treatment, etc.
Economic Concerns
At what rate will patients begin to return
Will patients need to be scheduled at larger intervals to allow for sanitizing in between and how will this affect revenue over time
Will existing staff return to work or will new staff need to be trained
Confirming supply chains for PPE, medications and office supplies such as hand sanitizer, cleaning products and toilet paper
Re-negotiating contracts with 3rd party vendors and handling potential payment and/or contract disputes
Potential increased costs for PPE
Applying for PPP loans or other small business loans
Re-opening Resources
The dental malpractice insurance companies as an industry have been working hard to create resources and provide up-to-date information to dental clients across the country.  Please review our "Re-opening Guidelines for Dental Practices" page for information specific to your insurance carrier, as well as resources from the ADA, OSHA and the CDC.